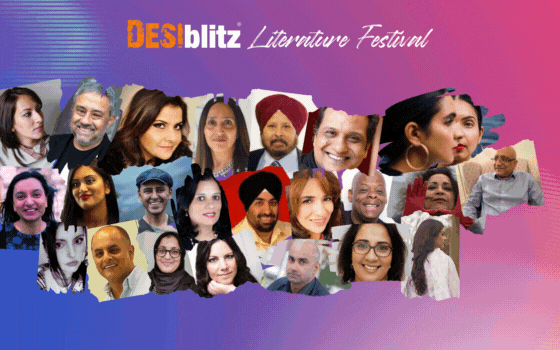 – 2023 HEADLINERS –
25TH ANNIVERSARY OF GOODNESS GRACIOUS ME
KULVINDER GHIR| NINA WADIA | SANJEEV KHOLI
FICTION
SAIMA MIR|AJAY CHOWDHURY|MELISSA ADDEY
NON-FICTION
NASH RAMJI|DR. SHAHED YOUSAF|KAVITHA RAO|TIPPA IRIE
CHILDREN'S FICTION
BALI RAI|JASBINDER BILAN
POETRY
ANGELA RIDEAU|ABDA KHAN|CHARNJIT GILL
JAAG COLLECTIVE|RUPINDER KAUR|SHAMIM AZAD
SHARENA LEE SATTI|SUMERA FARMAN|SUNA AFSHAN
MUSIC
TIPPA IRIE|CHANNI SINGH|GERWAL TWINS
HARBANS SINGH JANDHU|KULWANT SINGH BHAMRAH
DIVERSITY IN BRITISH PUBLISHING
HABIBA DESAI|POOJA AGGARWAL| ZAYNAH ALI
DESIBLITZ.COM/LITERATUREFESTIVAL
The UK's leading book festival celebrating British South Asian writing will today announce the line up for the 2023 edition of the festival. Now in its 7th year the DESIblitz Literature Festival 2023, will take place across venues in Birmingham including from 20th – 29th October and will feature some of the biggest names in British South Asian writing, fiction, poetry, storytelling, music, film, TV and publishing as well as exciting up and coming talent.
Showcasing the real breadth of talent and creativity in British South Asian literature today, themed events will feature crime fiction, children's fiction, historical fiction, poetry readings, memoir, as well as discussions about diversity in British publishing, with a variety of music from Bangla to Punjabi Folk Music being performed.
The UK's biggest festival for South Asian culture was established by the beating heart of British South Asian news and media – DESIblitz.com an award-winning news and entertainment platform that showcases and celebrates all things British South Asian with a big focus on arts, culture and books.
DESIblitz founder Indi Deol set up the DESIblitz Literature Festival because he wanted to create a platform that would establish writing as a viable career among British South Asian communities. At the heart of the festival is the desire to showcase the talents of established British South Asian writers to demonstrate to young minds and budding writers that it is possible to be a professional writer in the UK if you are from an Indian, Pakistani, Bangladeshi or Sri Lankan background. In order to make literature as accessible as possible most of the festival events are free. Tickets are available via Eventbrite, the DESIblitz Literature Festival website and through partner venues.
The DESIblitz Literature Festival also has a focus on bringing writing, storytelling and culture from South Asia to schools across the UK with the DESIblitz Truck Art Bus. The Truck Art Bus was decorated last year by world-renowned professional truck artist Haider Ali from Pakistan and has so far visited 11 schools and will be at the festival this year with a programme of story telling from a range of South Asian cultures.
Festival Director Indi Deol Said: "Our mission at the DESIblitz Literature Festival is to continue bringing together diverse audiences, transcending boundaries and celebrating the richness of cultures. With 90% of our festival events free to attend, we open doors to all, fostering inclusivity and accessibility. At the heart of our festival, we champion new and emerging voices, amplifying their stories and perspectives. We believe in nurturing talent and providing a platform for aspiring writers to shine. We invite you to explore the vibrant tapestry of storytelling, where renowned authors, thought-provoking panel discussions, interactive workshops, and mesmerising performances await. Mark your calendars and join us for a transformative experience that will leave you inspired, enlightened, and connected."
THE 2023 DESIBLITZ LITERATURE FESTIVAL LINEUP
The headline event at the 2023 DESIblitz Literature Festival will be a 25th Anniversary panel with the cast of Goodness Gracious Me. Actors including Kulvinder Ghir and Nina Wadia will be joined by original script writer Sanjeev Kholi to discuss why Goodness Gracious Me was a watershed moment for actors from the British South Asian Community, and the legacy of the show 25 years later.
Broadcaster and Journalist Saima Mir, talking about her critically acclaimed Muslim female led crime novel The Khan with the theatre director and crime writer Ajay Chowdhury will discuss his latest crime novel The Detective published by Penguin Vintage in April. Historical fiction novelist Melissa Addey has written several historical fiction series covering histories in Morocco, Ancient Greece and India and will discuss her latest release.
Inspiration for children will come from established authors Bali Rai and Jasbinder Bilan. Bali Rai's popular children's book Rani & Sukh described as a "true mash-up of Shakespeare, Bollywood and Punjabi folk tales", was published in 2004 and later became a GCSE set-text, his latest novel A Sudden Storm comes out in October, while Jasbinder Bilan is the Costa Award winning children's author of Asha and the Spirit Bird. In her writing she loves creating magical worlds inspired by her love of nature and wild places.
Nonfiction comes from some of the UK's leading Doctors and Lawyers including Dr Shahed Yousaf is a prison doctor dedicated to caring for people on the margins of society. An outsider on the inside, in his memoir Stitched Up (Penguin August 2023) he introduces us to a cast of unforgettable characters, including killers, con men and auto-cannibals.
At a time when medicine is a highly sought-after career for Indian women, it is hard to imagine what it was like for the pioneers. Lady Doctors: The Untold Stories of India's First Women in Medicine by Kavitha Rao(Jacaranda Books August 2023) tells the story of how women were bound by the restraints of family, caste and society, and how fiercely they fought to escape.
Nash Ramji, who arrived as a refugee from Uganda in 70s and has gone on to become one of Leicester's leading law practitioners and a justice of the peace, his novel The Price Of Honour: A Thrilling Story About An Honour Killing is inspired by the true story of an honour killing that he presided over.
Poetry is a big theme of this year's festival, poets reading their work at the festival include Angela Rideau, Abda Khan, Charnjit Gill, Jaag Collective, Rupinder Kaur, Shamim Azad, Sharena Lee Satti
Sumera Farman, Anisa Butt and Suna Afshan. Music will come from Channi SinghOBE the "godfather" of Bhangra in the West, Punjabi Music Composer Harbans Singh Jandhu, Kulwant Singh Bhamrah from the traditional Bhangra street band Apna Sangeet,up and coming Punjabi folk singers the Grewal Twins as well as the master of bhangra dancing Sukhi Bart.
Tying in with the festival's theme of opening up the UK publishing industry to writers from the South Asian diaspora, the festival will host a panel discussion about representation in the UK publishing industry which speakers including Habiba Desai founder of Fox & Windmill the UK's first independent publishing company for British South Asian writers, Pooja Aggarwal, Director of Academic and Professional Publishing, Bloomsbury Publishing and Zaynah Ali Legal and Compliance department for Macmillan Children's Books. For full details on the 2023 DESIblitz Literature Festival as well as ticket details please visit https://www.desiblitz.com/literaturefestival/